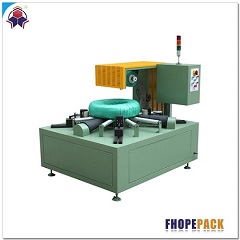 More information:  https://www.fhopepack.com
Horizontal coil packing machine.
Easy packing material roll loading and unloading.
Adjust the best package for OD (outer diameter) of different packages
Special design, convenient for manual loading and unloading.
Packaging tension can be adjusted by special mechanical device.
Guardrail, soft start and stop safe operation.
Widely applicable to packaging materials.
A uniform tension device enables the machine to work in coil packing from small to large.
Marking ring striking (optional)
How to develop the brand effect of winding machine
In the packaging machinery market of our country, the winding machine is an important packaging equipment that can not be wound. The winding machine of our country is a kind of equipment which is suitable for domestic enterprises to use, based on the reference of foreign advanced technology, using our own practical experience, and through a large number of human and material resources for many years of R & D and production.
In order to build its own winding machine brand and get better development, it is one of the necessary conditions to build its own high-quality winding machine brand, and the development of winding machine needs brand effect. The sales value of the product depends on the quality of the product. The winding machine is a durable product. Only the high-quality winding packaging machine can have a good sales volume, so the quality requirements are very high. The high-quality winding function has a good continuity for the enterprises that produce and use the winding machine, can occupy an important position in the enterprise market, and can make the enterprises develop healthily and orderly. Of course, appearance is also a consideration. When customers choose to buy the same products and different packages, one of them is packaged by winding machine, the other is not packaged, most of them will buy the products packaged by winding machine, because they will feel the product quality is good, enterprises should choose high-quality winding machine according to their own needs when producing products, so that the development of enterprises is very good Good continuity.
Related posts:
Posted by: hong on 2020年2月13日